Chin V-Line Up Lift Belt Machine Red Blue LED Photon Therapy Facial Lifting Device Face Slimming Galvanic Massager V-Face Care.
With V-Face Lifting Instrument Masseter, you can tighten your skin and look younger than ever!
Product Description
V-Face Lift Belt Machine
                                                                                                                           As we get older our skin starts to sag. But not anymore!
                                                                                       With V-Face Lifting Instrument Masseter, you can tighten your skin and look younger than ever!

Around your chin tightly, making it lookslimmer, smoother, and firmer.Stretched skin will become firmer and lose all wrinkles!
Not only that, but it will help in moisturizing your skin and solve dry skin problems.


Feature Strong V-Face Shaping Result]Can effectively fix the face contours, make the face smaller and smoother.V-shaped face creator for every beautiful you.
V-type elastic massag  3,500 high-frequency vibrations per minute, near-infrared light penetrates the dermis, and lifts and tightens the V-face.
It works better with the essence, and the ion is introduced into the essence to enhance absorption. [2 Photon Modes]2 Photon Modes: Blue light mode for acne removal, Red light mode for flat wrinkle skin.
2 lights work together for comprehensive skin care.
Smartly and Widely Applicable]Ergonomic design perfectly fits for human face contour, foldable ring shape meet all the face shapes,Headband length adjustable.
Users Friendly Design]Adopt skin-friendly material, safe and irritant free.
10 minutes timing function, intelligent remote control operation, more simple and convenient.
Small size and light weight, You can slim your face anytime and everywhere.
With just 5-10 minutes a day you can achieve the jawline of your dreams! We provide 4 modes and a wireless remote control!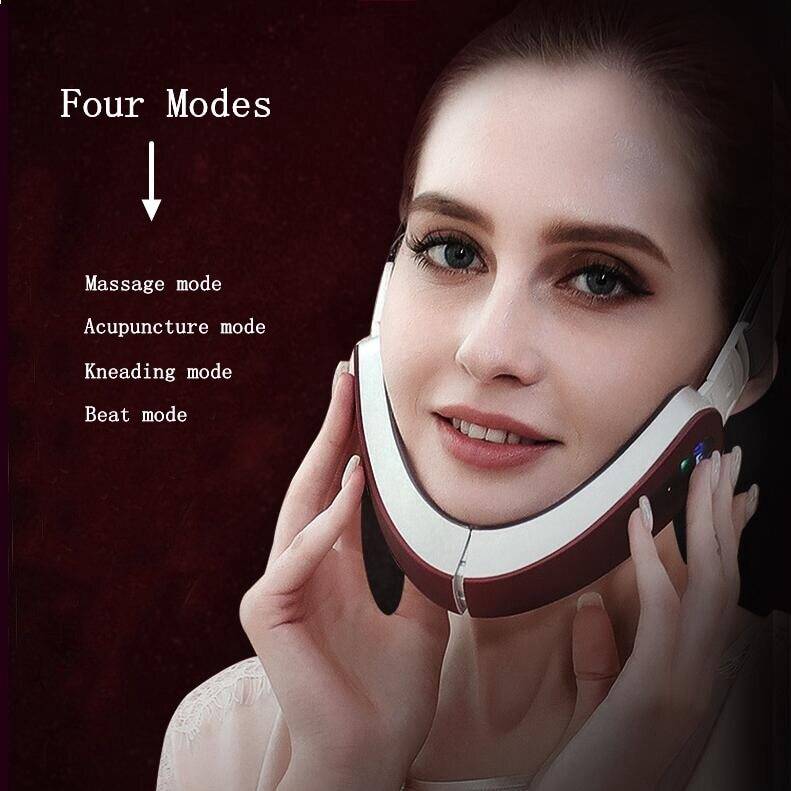 Specification:
Material: ABS
Power supply: USB rechargeable
Rated voltage: 3.7V
Power: 2.5W
Battery capacity: 1000mAh
Charging time: 2-3 hours
Using time: Approx. 80 minutes
Mode: 3
Control mode: Remote control operation
Thin face style: Vibration
Charging indicator: red light on while charging, blue light on when fully charged
Default working time: auto power off after 10 minutes working
Efficacy: Lifting and firming, colorful skin rejuvenation, vibration massage, whitening and light spots
Function: 48 LED lights, iontophoresis nutrition, gentle lifting massage, 10 minutes intimate reminder, intelligent remote control, free angle control, 3500 rpm vibration, USB lightning fast charging.
Package includes:
1 * V face instrument
1* Charging cable
1* Remote control
1* English Manual
Note:
Everyone's skin sensitivity is different, so allergies vary from person to person.
If you have allergies, it is recommended to suspend the use first, and then try to use it after fully recovering.
If the sensitive phenomenon occurs again, you need to stop using it and consult the relevant doctor before use
Video: